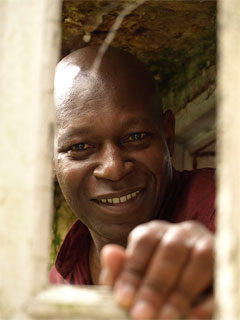 Julien Jacob's roots are in Benin where he was born in 1960. His mother is from Martinique. His father from Guadeloupe was working in the army at this time. His parents returned to Africa in search of their origins. However, with just four years Julien Jacob leaves his home country Benin and never returns. The family lives in Marseille, Fréjus and Nizza. In 1993 Julien moves to Paris, but only two years later – now 35 years old – he continues his journey to the Bretagne where he finds a new inspiring home.
With just 17 years he starts as a singer in a rock band in Southern France. It is the classic initiation in the world of music like with many other teenagers. Only the record collection of his father brings him to break new ground: Jazz, French chanson, African, Caribbean and Afro-Cuban music become his most important influences. He works at numerous concerts and comes into contact with many celebrities of the world of music like Miles Davis, Dizzy Gillepsie, Georges Benson and David Bowie. A defining experience was the concert night which he spent with Fela Kuti. He travels much and discovers new cultures. Especially the encounter with the Celtic culture, Hinduism and the Voodoo cult influence his further life.
Early on he begins to invent his own language. He wants to free his thinking from the sense of the words to directly communicate his feelings to the audience. His swinging syllables full of mysteries become his musical trademark. It is a self-created language which plays with the sounds of words and is therefore more revealing than the actual meaning of the words. Julien Jacob records many songs in which African and Celtic rhythms are merged. His abilities come to the attention of some producers in the Bretagne and in 2000 his first album "Shanti" is released. With its mixture of folk and incantations it it differs from all remaining African productions. Five years later he has his international breakethrough whith his second album "Cotonou". He plays as opener for Suzanne Vega, Cesaria Evora and Rokia Traoré and worldwide on renowned festivals. In 2008 his third album "Barham" is released.
Julien Jacob on Tropical Music: