Legends of the famous Lippman + Rau Festivals: DVD 1 - Legends of Folklore Argentino, Flamenco and Música do Brasil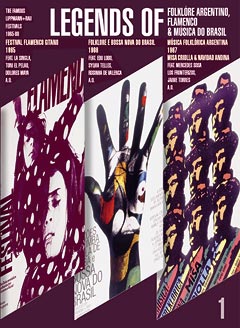 DVD Tropical Music 68.362
DVD 9; PAL; All Regions; Colour / Black & White;
Duration: 158 Min. Screen 4/3, Subtitles in English
Digipack with Booklet, 56 pages in English
Festival Flamenco Gitano 1965
with La Singla, Ramon Moreno, Juan Maya Marote, Diego Vargas, Toni El Pelao, José Salazar, Dolores Maya u.a.
Titles and styles: Soleá / Alegria / Siguiriyas / Zapateado / Rumba Catalan
Duration: 47:00 Min.
Canções, Samba e Bossa Nova do Brasil 1966
with Edu Lobo, Sylvia Telles, Rosinha de Valenca, Salvador Trio with Chico Batera, J.T. Meireles u.a.
Titles: Macumba / O Barquinho / Reza / Upa Neguinho / Não Tenho Lagrimas / O Orvalho vem caindo / Acalanto / Samba de uma nota só / Tristeza
Duration: 44:49 Min.
Música Folklórica Argentina 1967
with Los Fronterizos, Mercedes Sosa, Jaime Torres, Chito Zeballos, Domingo Cura, Ariel Ramirez u.a.
Titles: Albahaca sin Carnaval / La Vieja • Naranjitay / La Boliviana / Zamba del Chagueno / Pajaro Campana / Pobre mi negra / Canción del derrumbe Indio u.a.
Duration: 37:33 Min.
Misa Criolla & Navidad Nuestra 1967
with Los Fronterizos, Jaime Torres, Ariel Ramirez, Domingo Cura, Coro Easo y Maitea under Maestro Bastida
Duration: 29:27 Min.

Info for DVD 2: Legends of Spiritual & Gospel and Folk & Country
Info for DVD 3: Legends of the American Folk Blues Festivals