Acclaimed collective Brooklyn Funk Essentials returns with "Watcha Playin'"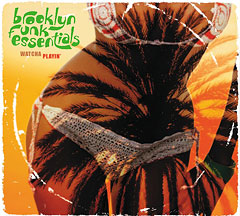 Following an 8 year hiatus, the acclaimed collective Brooklyn Funk Essentials triumphantly return with a new studio album Watcha Playin'. Immaculately produced by founder Lati Kronlund, the blistering set marks the legendary multicultural collective's 15th anniversary and is their first new studio offering since 2000's Make 'Em Like It.
Released Spring 2008, Watcha Playin' reunites the classic line-up of Kronlund (bass, beats, guitar, keyboards and turntables), vocalists Hanifah Walidah, Papa Dee and Everton Sylvester, and Yancy Drew (drums & vocals) alongside Desmond Foster (vocals & guitar), Iwan van Hetten (trumpet, keys & vocals), Philippe Monrose (percussion) and an impressive cast of notable guest contributors including Turkish super-star clarinet player Hüsnü Senlendirici and Tunisian Raï Diva Amina Annabi (lead vocals). Awa Manneh and Stephanie McKay (background vocals) and from Bebel Gilberto's band Masa Shimizu (guitars). The album is the forth studio release from the group who was born out of New York's buzzing hip-hop-jazz and slam poetry scenes in the early 90s.
Watcha Playin' finds the enduring outfit dispensing radiant sonic nirvana with masterful arrangements, eloquent lyrical narratives and exhilarating melodies. Written and road-tested during the band's 2007 reunion tour, the explosive set was recorded in New York, Paris, Amsterdam, Istanbul and Stockholm injecting a distinctive cosmopolitan flair vividly constructed around smooth textures and jubilant rhythms, which have become the band's signature (along with their impeccable live performances).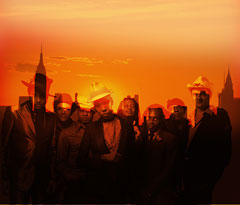 Throughout the 12-track opus, Brooklyn Funk Essentials brilliantly showcase their dexterity mining an eclectic musical terrain anchored in full-bodied urban dance grooves, stylized pop, sweltering 70s funk, irrepressible disco nostalgia, dance-hall-infected reggae/hip-hop jams, and flavourful poly-ethnic dub. Taking cues from contemporaries like Stephen and Damian "Jr. Gong" Marley, Gnarls Barkley, M.I.A., N.E.R.D., Brand New Heavies, Jamiroquai and Mr. Scruff, BFE weave a cohesive widescreen collection where the energy is infectious, the instrumentation superlative and the songs dynamic - carefully balancing political fire and ruminative societal critiques with transcendent elegies and euphoric party jams.
Watcha Playin' is a tour-de-force that harkens back to the spicy swagger of their landmark 1994 debut Cool and Steady and Easy (which featured their funky reggae-inspired reworking of Pharoah Sanders' classic The Creator Has A Master Plan), the vibrant traditional Turkish folk mosaics of 1998's Grammy-nominated In The Buzz Bag and the refined pop mélange of 2000's Make 'Em Like It.
Tracks like the magnetic Gypsy-Skamitzva bounce "Dibby Dibby Sound", "For A Few Dollars More / Faya" (a poignant political meditation railing against the fractured state of the world's money hungry democracies featuring Papa Dee and Everton), the slinky jazz-house scorcher "S-Curved" and the atomic maelstrom "My Jamaican Girl" (featuring Hanifah Walidah) are poised to propel the acclaimed act further into the pop consciousness without sacrificing their underground roots.
The album is already gaining massive support from the international DJ community with the early leak of "Need", the sensorial 12-minute epic (and album opener) featuring Everton Sylvester's hazy ragga vocals and the dreamy Turkish clarinet tones of Hüsnü Senlendirici. Be sure to check the band's page on MySpace, too.
Video: Brooklyn Funk Essentials az A38 hajón